Print Tracker software provides centralized print logger / print tracker / print counter / printer monitor. Print Tracker is an easy to use print logger software allowing logging, tracking, count, audit and printing restrictions in Windows systems. You can monitor all your printers from a single location by log and audit printing activity, analyze and monitor printings, eliminate paper wastage and reduce maintenance time of your printers. Print Tracker supports all brands of printers and all types of printing environments (print server / non print server / direct IP printer / workstation connected printer). The software doesn't require you to have a print server in order to track print jobs and the software doesn't have to be installed on the print server if you use print server.
You can download the trial version of VeryUtils Print Tracker software from this web page,
https://veryutils.com/hookprinter-print-logger
Print Tracker is a free trial software published in the VeryUtils Platform by VeryPDF Inc. Print Tracker software is compatible with all Windows systems.
Just click the green Download button to download the trial version of Print Tracker software, after you install it, you can print a document to any installed printer, after a few seconds, you will able to find the printed document in our Cloud Database in following web page,
http://online.verypdf.com/app/hookprinter/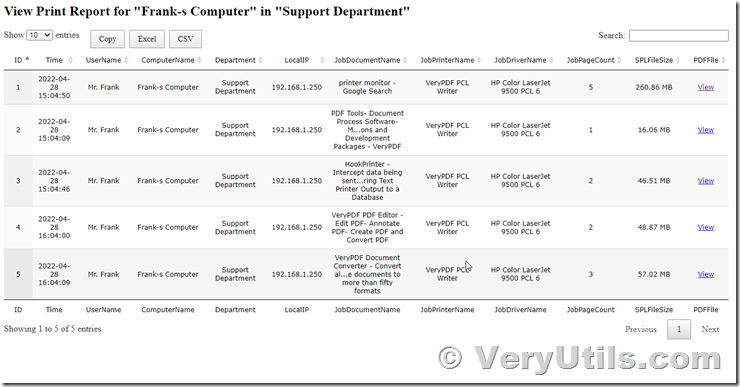 Related Posts