Integrate an easy to use appointment scheduling software into your website and manage appointment schedules, individual schedules, services and rates. VeryUtils PHP-based appointment scheduler is a flexible and highly efficient software solution, suitable for many companies in the service field. Use the appointment script as a stand-alone tool or integrate it with any other web-based system.
https://veryutils.com/php-appointment-scheduler
VeryUtils PHP Appointment Scheduler is written in PHP language, it's a great PHP Reservation Script. PHP Appointment Booking Script is a simple and powerful appointment scheduling platform, suitable for all companies. This script allows your client to make an appointment from anywhere in the world, on their mobile, iPad, Tablet Computer, PC or Mac system.
Some useful highlight features:
* This product allows you to add online self-booking service to any of the devices.
* Allows you to manage the member's working hours in any organization.
* Feature to make and cancel the appointment at any time, if necessary.
* It allows users to schedule their appointments on any of the devices.
* It was written in PHP, you can deploy it to any Linux system which support the PHP.
The appointment scheduling software is very important in the management and organization of business and professionals. To keep everything in order, a business owner or professional needs to update their calendars with meetings, reservations and appointments.
VeryUtils PHP Appointment Scheduler will help companies to manage these tasks easily and effectively. VeryUtils PHP Appointment Scheduler software can be related to desktop applications as well as web-based systems, popularly known as SAAS (Software As A Service).
You may evaluate VeryUtils PHP Appointment Scheduler from this web page,
https://veryutils.com/php-appointment-scheduler
On this web page, you may click "Demo" tab, click "Open Preview in Fullscreen Mode" button, you will able to test VeryUtils PHP Appointment Scheduler in a full page,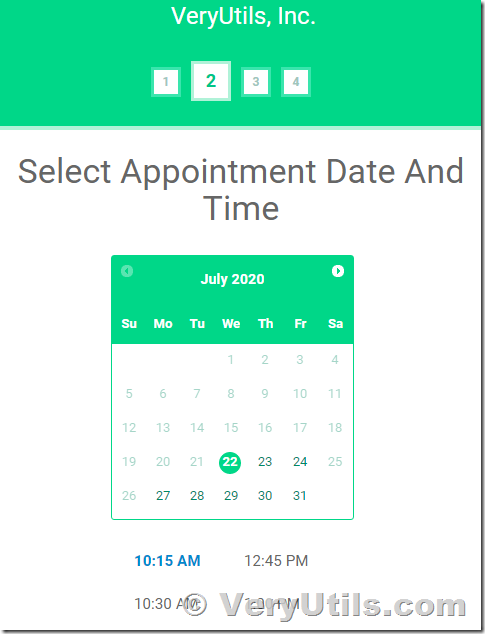 You can select the service and select the provider and select the data&time for appointment easily. If you wish to provide this service to your customers, you may purchase this script from following web page,
https://veryutils.com/php-appointment-scheduler
You will get full PHP source code after you purchase this product online, if you have any question for this script, please feel free to let us know, we are glad to assist you asap.
Related Posts