The PHP appointment booking script is a highly customizable web application that allows your customers to make appointments with you on your web site. In addition, it also provides the ability to synchronize data with Google Calendar, so you can use it with other services. It is a PHP project, you will get the complete source code after purchase, and you can modify it to best meet your requirements. The PHP appointment booking script can run smoothly on your existing website because it can be installed in a single folder on the server, and of course, two sites can share the same database.
https://veryutils.com/php-appointment-scheduler
Appointment and customer management
Manage all appointments with flexible calendar display and layout. It's easier than ever to handle all customer information and their booking history.
Services and service providers
Set up your services and the employees/teams/departments that will provide services to customers. Each service is fully configurable, and each provider has its own schedule.
Business process and booking rules
You can configure the system yourself, apply working hours and breaks, and allow customers to book, modify or cancel appointments within a specific time period.
Google Calendar Sync
Sync your events with Google Calendar and share with other applications. Providers and secretaries will also be able to arrange their data.
E-mail notification
Get email notifications about any changes on the schedule (including reservations, modifications and cancellations). Customers will also be notified of changes to their appointments.
Independent installation
Install your own copy on the server and use the source code and database information in any way you want. simple! Reservation is free!
Responsive design
Launch the app from your phone and handle all UI perfectly in any viewport size.
REST API
Use flexible REST API endpoints to develop rich content applications and process all application-wide information from the client.
You may evaluate PHP appointment booking script from this web page,
https://veryutils.com/php-appointment-scheduler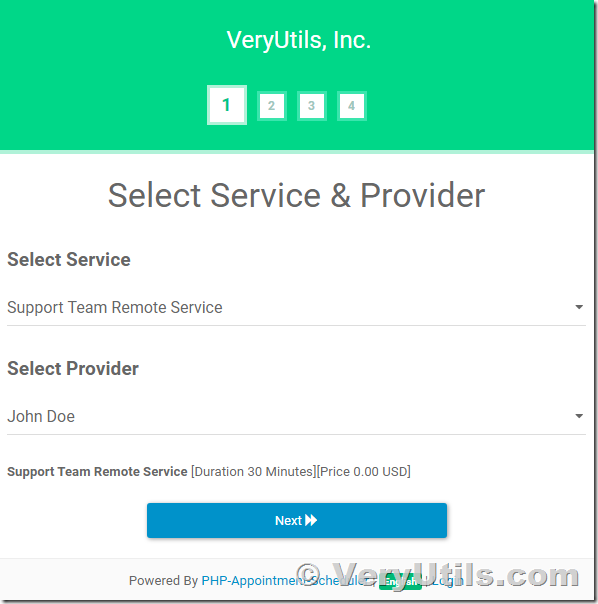 You can also integrate this PHP appointment booking script into your WordPress site using iframe, if you have any question for this PHP appointment booking script, please feel free to let us know, we are glad to assist you asap.
Related Posts