What Is a Contactless QR Code Menu?
Contactless menus feature QR codes that customers point and scan with their smartphone's camera, taking them to an online digital menu where they can browse food and drink options. In restaurants, these contactless menus are normally small table-top postcards. This replaces the need for physical menus – meaning a safer experience for everyone involved.
Some digital menu tools have added features such as pre-ordering before diners arrive at a restaurant, ordering through the digital menu at their table, and payment processing.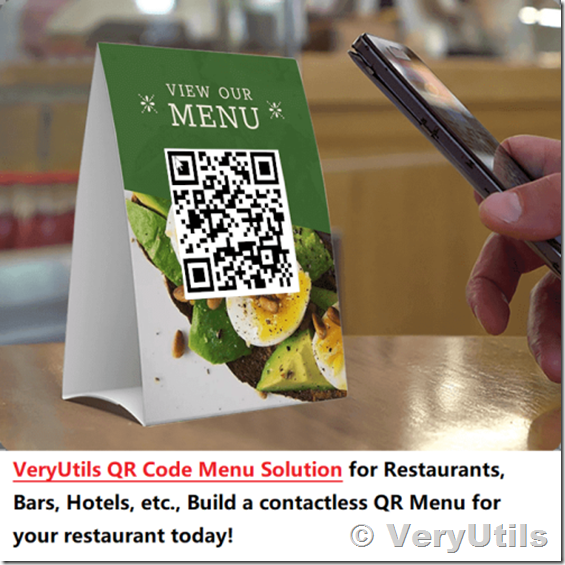 Benefits of QR Menu:
No need for printed menus.
QR Menu that showcases food images and videos to upsell your food.
Increased efficiency as the order and re-orders are placed without the staff approaching the guest.
Simple and easy interface similar to most popular delivery apps making it easy for the guest to use.
No download of any app required. When the guest scans the QR Code a link pops up on the browser.
The guest is able to place their order and pay directly through the digital menu.
VeryUtils QR Code Menu platform creates unique QR codes by table number, room number, or by sunbed number. Your guests will definitely love how convenient it is to order through the digital menu without needing to call any of your busy staff. Their orders will go directly into your order panel, a printer, or your POS - and you will be able to identify from which table, room, or sunbed it's coming from.
Enable ordering with direct payment
Apart from receiving the order from your guests, you can use our platform to collect the payment from your guests directly into your PayPal, Stripe, 2Checkout or Checkout account.
Online Delivery & Pick Up
Say goodbye to third-party fees with VeryUtils QR Code Menu platform at zero commission! ​The pandemic has redefined the restaurant business! And the food delivery business for any restaurant is equally important or perhaps more important than their dine-in business.
Seamless payment with Apple Pay & Google Pay
Your guests can easily pay their bills with Apple Pay & Google Pay, increasing your guest satisfaction.
Online Payment Integration
Have direct integration with your preferred payment gateway, include stripe, razorpay, checkout, 2checkout, PayPal, etc. payment gateways.
If you have any questions or special requirements, please feel free to let us know, we are glad to hear from you.
Related Posts