PDF documents are used to share a variety of information, including information that is confidential or has legal value, such as contract information. In order to ensure that the document has not been modified by anyone other than the author, and to confirm that the author is the person we expect and not others, digital signature is required.
Digital PDF Signatures
In this article, I will show you how to apply a digital signature to a PDF document with the VeryUtils PDF Digital Signature Tool.
Get a Certificate
You must obtain a certificate before you can sign a PDF document. Certificates used for digital signatures are usually issued by a limited number of companies that have already obtained certificates. The cost of ordering certificates from these companies is usually between $10 and $1,000, depending on the type of certificate required.
Let me show you how to add a Digital Signature and Graphical Signature to a PDF now.
1. Please download and install VeryUtils PDF Digital Signature Tool from this web page,
https://veryutils.com/pdf-digital-signature-tool
2. After you install it, please run it, click "Browse" button to load a PDF file that you want to sign, enter some PDF Metadata information,
3. Click "Signature" tab, you can select a valid Certificate, select a Signature Image and enter some useful information for the Digital Signature,
4. Enter User Password, Owner Password and choose Permission Options on the Encryption tab,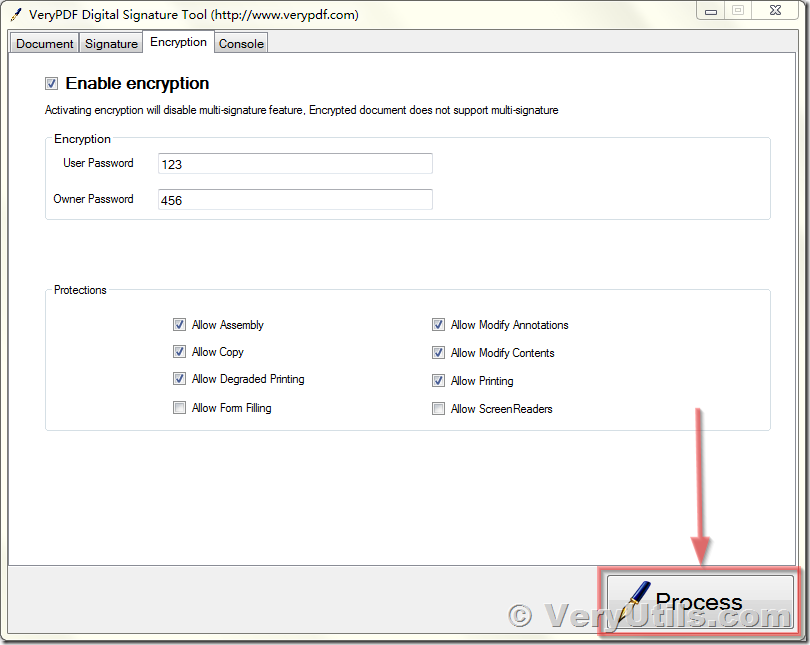 5. Click "Process" button, you will get a new PDF file with Digital Signature and Graphical Signature after a few seconds.
6. Please open the signed PDF file in Adobe Acrobat or Adobe Reader, you will able to see your PDF file contains the Digital Signature and Graphical Signature,
7. The signed PDF file contains the Security Permissions also,
VeryUtils PDF Digital Signature Tool is a great software for PDF Signing, you may download and purchase it from this web page directly,
https://veryutils.com/pdf-digital-signature-tool
See Also:
PDF Signer Software,
https://veryutils.com/pdf-signer-software
PDF Digital Signature Tool,
https://veryutils.com/pdf-digital-signature-tool
VeryPDF PDF Signer Cloud Service,
https://veryutils.com/verypdf-pdf-signer-cloud-service
PDF Security and Signature (Shell & COM & SDK),
https://veryutils.com/pdf-security-and-signature-shell-com-sdk
Related Posts