In Portugal, NIF stands for "Número de Identificação Fiscal" which means tax identification number. It is a prerequisite for all economic activities and mandatory for both residents and non-residents who want to open a bank account, engage in real estate transactions, obtain a residence permit, or sign up with an internet provider.
== The NIF in Portugal offers several advantages:
* Open a bank account.
* Establish a company with access to the EU market.
* Obtain the NHR status.
* Access municipal services remotely.
Obtain your NIF in Portugal quickly and easily with our services. Apply now and receive your NIF within 10 business days.
== You will need the following documents to complete this form:
1. Proof of identification, which can be one of the following documents
* International Passport
* EU National ID Card
2. Proof of address outside Portugal, which can be one of the following documents
* Driver's license
* Bank statement (issued within the last 3 months)
* Utility bill (issued within the last 3 months)
Documents should be provided in English or Portuguese. (or be translated)
== Requesting Ordering NIF Online
If you opt to request an NIF online, you can avoid any difficulties associated with the process. Visiting a local office in person may be challenging, particularly if you don't speak Portuguese.
The primary benefit of obtaining help with your NIF application online is speed. You'll receive your NIF promptly, which can be crucial in some cases.
The second advantage is that the entire process is effortless, and you won't have to leave your home. Plus, you need not worry about the outcome as everything will be handled expertly.
If you find the idea appealing, it's a smart decision to order your NIF online!
== Do You Have to Provide a Lot of Documents to Start?
The process is simple and straightforward, so you won't have to deal with a lot of paperwork. Here's what you'll need:
A copy of your ID. You can use either your passport or EU national ID card. Ensure that you have clear scans of the document.
Proof of your foreign address. You can choose from various options: a bank statement issued within the previous three months, a utility bill that meets the same requirement, or a driver's license.
Note that your documents must be in English or Portuguese. If you prefer the latter but don't speak the language, you can hire a professional translator for accurate results.
As you can see, the process doesn't require much effort, so feel free to contact us and request help with obtaining your Portuguese NIF. We're also available to answer any questions you may have along the way.
== Can I Get My NIF Really Fast?
We strive to provide the fastest service possible, and we are continually improving our processes to achieve this. Our current estimate is that you'll receive your NIF within five days, but please note that this timeline may vary.
Also, keep in mind that submitting high-quality documents can increase the likelihood of receiving your NIF more quickly.
== What Happens if I Make a Decision to Postpone Ordering NIF?
We strongly recommend against postponing the process of obtaining your NIF. Failing to do so could cause difficulties if you plan to engage in legal activities in Portugal.
In fact, the NIF is required for virtually any activity in Portugal, from everyday shopping to more significant transactions such as purchasing a property. That's why it's best to apply for your NIF today, especially since we offer efficient assistance to make the process easy for you.
With our help, you'll receive quality service and friendly support, and many of our satisfied clients have even recommended us to their friends and family.
Don't hesitate to contact us to start the painless process of obtaining your NIF. We look forward to hearing from you!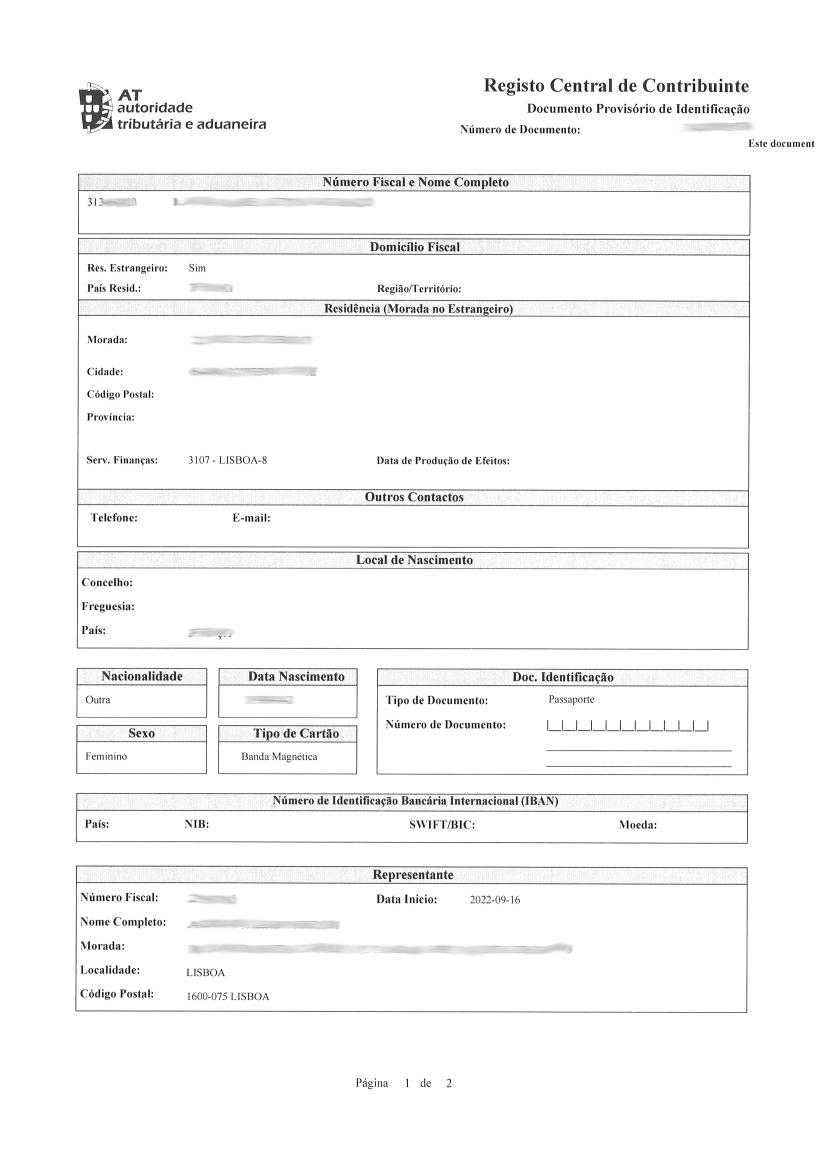 Here's an example of NIF document
Get Portuguese NIF (Number of Tax Identification)
Related Products
Tags: niss, number of tax identification, portuguese nif, tax id, tax number