Handwriting Signature Generator for JavaScript and jQuery can be used to Create Personalized Signatures with Ease.
In today's digital age, signing documents online has become increasingly prevalent. However, the process of obtaining a handwritten signature can still be a cumbersome and outdated affair. Handwriting Signature Generator is a powerful tool developed using JavaScript and jQuery, designed to revolutionize the way we create signatures.

Handwriting Signature Generator is also named Type Signature, this Signature generator allows you to effortlessly type your name, select from a wide range of fonts, and generate a unique signature that captures your personal style. With just a few simple steps, you can create a digital signature that adds a touch of professionalism and authenticity to your documents.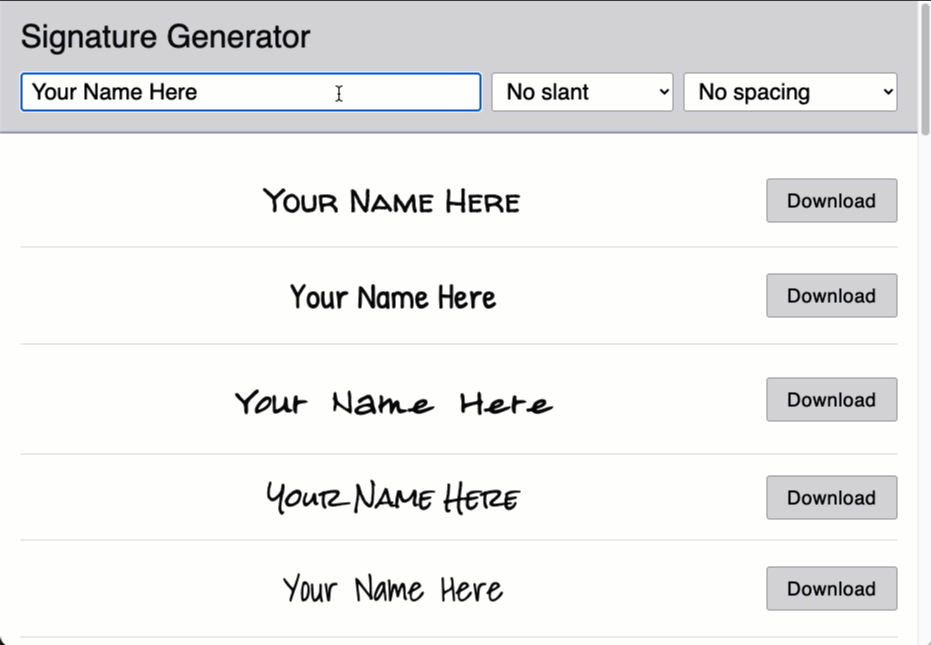 Handwriting Signature Generator harnesses the power of JavaScript and jQuery, making it fully functional within any web browser. Simply input your name into the designated text field, and watch as the generator transforms it into a visually appealing signature using one of the 20+ script fonts available. Whether you prefer a sleek and modern signature or a more elegant and cursive style, the extensive font library offers options to suit every taste.
Handwriting Signature Generator Highlight Features:
* Create Signature Images Using JavaScript.
* Create transparent PNG Signature images.
* Generate 20+ Signature Images at one time.
* Able to adjust font size, font slant, spacing values to signature.
* Full JavaScript source code.
* No PHP, No database, Just JavaScript source code.
One of the main motivations behind developing this generator was the realization that signing PDF documents can be a convoluted and archaic process, often resembling the outdated practice of faxing. In an ideal world, all signatures would be collected online through platforms like DocuSign, simplifying the process for both signers and recipients. However, not everyone has access to such services. Thus, the Handwriting Signature Generator was conceived as a solution to streamline the process of signing PDF files.
By utilizing this JavaScript code, you can effortlessly generate a signature image in the form of a transparent PNG file. This image can then be easily inserted into PDF documents, allowing for convenient annotation and signing. Gone are the days of laboriously printing, signing, and scanning documents. With the Handwriting Signature Generator, you can seamlessly integrate your personalized signature into digital files, saving both time and resources.
Moreover, if you are working on a project that requires signature functionality similar to that of DocuSign, you can easily integrate the JavaScript code from the Handwriting Signature Generator into your own development. This means you can incorporate the signature feature into your project without investing significant time and effort in coding it from scratch. The Handwriting Signature Generator not only provides a practical solution for individual document signing but also offers a valuable resource for developers seeking to enhance their applications with signature capabilities.
The Handwriting Signature Generator is a game-changer in the realm of digital signatures. Developed using JavaScript and jQuery, it enables users to effortlessly create personalized signatures by simply typing their names and selecting from a diverse range of fonts. With the ability to generate signature images for easy integration into PDF files, this generator simplifies the signing process and eliminates the need for antiquated practices such as printing and scanning. Whether you are an individual seeking a convenient way to sign documents or a developer looking to enhance your project's signature functionality, the Handwriting Signature Generator is a powerful tool that can transform your digital signing experience. Embrace the future of signatures with this innovative and user-friendly generator.
➤ Related Products:
HTML5 Signature Pad to Image
https://veryutils.com/html5-signature-pad-to-image
PDF Signer Software
https://veryutils.com/pdf-signer-software
PDF Digital Signature Tool
https://veryutils.com/pdf-digital-signature-tool
VeryPDF PDF Signer Cloud Service
https://veryutils.com/verypdf-pdf-signer-cloud-service
PDF Security and Signature (Shell & COM & SDK)
https://veryutils.com/pdf-security-and-signature-shell-com-sdk
VeryPDF Online PDF Editor, you can insert generated Handwriting Signature Image into PDF file using this Cloud App,
http://online.verypdf.com/online-pdf-editor
Handwriting Signature Generator
Product Code: MOD230514122535
Availability: In Stock
Viewed: 2803
Sold By: BestScripts
Seller Reviews: (0)
$29.95

$19.95

-33%

Ex Tax: $19.95
Related Products
Tags: annotate pdf, digital signature, docu sign, docusign, efficient signing, handwriting creator, handwriting generator, handwriting maker, handwriting sign, handwriting signature, handwritten signature, handwritten signatures, html5 signature, javascript signature, jquery signature, modernize signing, online signatures, online signing, pdf sign, pdf signing, personalized signatures, script fonts, sign documents, sign pdf, signature functionality, signature generator, simplified signing, text signature, text to signature, transparent png, type signature, web signature, web-based signature